Wellness & Spa Logos
Welcome to BrandCrowd... The World's #1 Wellness & Spa Logo Maker. Try it for FREE!
Make a logo you'll love, instantly. Try for free.
Whether you need a beauty logo, a logo for your real estate business or even a logo for your new startup, we help you generate thousands of logo designs in seconds.
How to create a great wellness & spa logo?
Conveying a sense of calm, health and wellness in your craft starts from the ground up. To make it in this industry, make sure that you give your brand an uncompromising logo design.
Pick a wellness & spa logo
Pick one of the wellness & spa logos on this page or update your search
Customize your wellness & spa logo
Change colour, fonts, add a tagline... Our wellness & spa logo maker is 100% customizable and easy to use
Download your wellness & spa logo!
Download your wellness & spa logo files and start sharing it with the world!
Your wellness & spa logo, made easy.
The wellness industry is on the up and is backed by a strong market presence. Try dipping your toe in this calm and relaxing logo collection. Professional designers created each one to convey the essence of health and wellness. These logos will ensure your brand is relevant and can become an industry trailblazer.
Wellness & Spa logo not exactly the right fit? Check these out:
What makes a harmonious spa and wellness logo?
The right logo for your brand is one that strengthens your identity as a credible wellness company.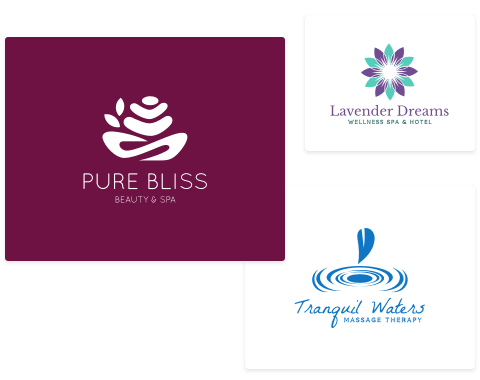 Logo Type
Unearth the wonders of logo type. Do this by adding your personal touch to professionally made designs.
Colors
Maintain form and function in your brand color. Start incorporating hues that are known to have therapeutic effects.
Fonts
Typographic elements help reinforce brand traits. Soft and rounded fonts are commonly seen in the industry.
Shapes
Arching lines make up the structure of harmonious logos. This helps keep your brand from looking rigid.
This site is amazing. My first logo and they did a great job with everything from start to finish. I would recommend using BrandCrowd to anyone. BrandCrowd

Super fast and easy to craft such an integral part of your business! BrandCrowd

So easy to navigate the website and an amazing range to choose from. BrandCrowd

Very easy to use and many alternatives to choose from. Thank you very much for your service. BrandCrowd

Very easy to use. Great People BrandCrowd

Brandcrowd is an amazing website with lots and lots of creative ideas BrandCrowd