Travel & Hotel Logos
Welcome to BrandCrowd... The World's #1 Travel & Hotel Logo Maker. Try it for FREE!
Make a logo you'll love, instantly. Try for free.
Whether you need a beauty logo, a logo for your real estate business or even a logo for your new startup, we help you generate thousands of logo designs in seconds.
How to create a great travel & hotel logo?
Attentiveness, flexibility, and reliability - these ideal company characteristics for any travel and hotel business. Convey the right message through great logo design.
Pick a travel & hotel logo
Pick one of the travel & hotel logos on this page or update your search
Customize your travel & hotel logo
Change colour, fonts, add a tagline... Our travel & hotel logo maker is 100% customizable and easy to use
Download your travel & hotel logo!
Download your travel & hotel logo files and start sharing it with the world!
Your travel & hotel logo, made easy.
Travel is a highly competitive business. The trillion-dollar industry puts a prize on clever and memorable branding. Companies can transcend industry conventions to set themselves apart with a great logo. Building this identity for your travel brand starts with choosing the perfect logo.
Travel & Hotel logo not exactly the right fit? Check these out:
What makes an inspiring travel & hotel logo?
Effective logo design is your ticket to creating connections with leisure and business travellers.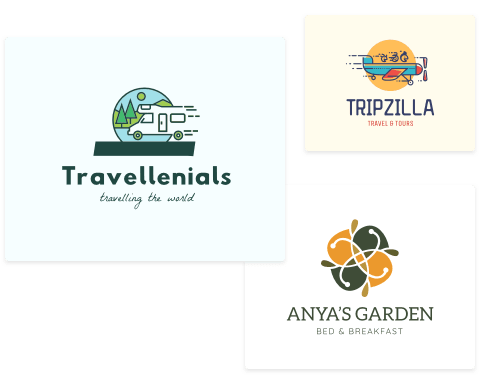 Logo Type
Like a design native, you can captivate audiences with a skilled interpretation of your company.
Colors
Is your brand luxury or economical? Colors provide detail that helps communicate what type of company you are.
Fonts
You can create a better brand story using different fonts. Style variations add depth to design.
Shapes
Curvy figures make audiences perceive brands as comfortable and approachable. Soft profiles are seen a lot in hotel logos.
This site is amazing. My first logo and they did a great job with everything from start to finish. I would recommend using BrandCrowd to anyone. BrandCrowd

Super fast and easy to craft such an integral part of your business! BrandCrowd

So easy to navigate the website and an amazing range to choose from. BrandCrowd

Very easy to use and many alternatives to choose from. Thank you very much for your service. BrandCrowd

Very easy to use. Great People BrandCrowd

Brandcrowd is an amazing website with lots and lots of creative ideas BrandCrowd