Sports & Fitness Logos
Welcome to BrandCrowd... The World's #1 Sports & Fitness Logo Maker. Try it for FREE!
Make a logo you'll love, instantly. Try for free.
Whether you need a beauty logo, a logo for your real estate business or even a logo for your new startup, we help you generate thousands of logo designs in seconds.
How to create a great sports & fitness logo?
Expect impressive results and ace your brand identity by giving your sport business a great logo. Work with our logo maker to gain a logo without pain.
Pick a sports & fitness logo
Pick one of the sports & fitness logos on this page or update your search
Customize your sports & fitness logo
Change colour, fonts, add a tagline... Our sports & fitness logo maker is 100% customizable and easy to use
Download your sports & fitness logo!
Download your sports & fitness logo files and start sharing it with the world!
Your sports & fitness logo, made easy.
Getting by in the fitness industry requires you to have the right tools and the right branding kit. Gear up with a stunning logo for your fitness brand. These designs are trendy can be the cornerstone of any sports team, tournament, boot camp or gym. Uncover logos that target the many niches of fitness companies today.
Sports & Fitness logo not exactly the right fit? Check these out:
What makes an awesome sports & fitness logo?
Highlighting your fitness creds via a logo needs creativity. Incorporate your strengths by following these simple steps in logo design.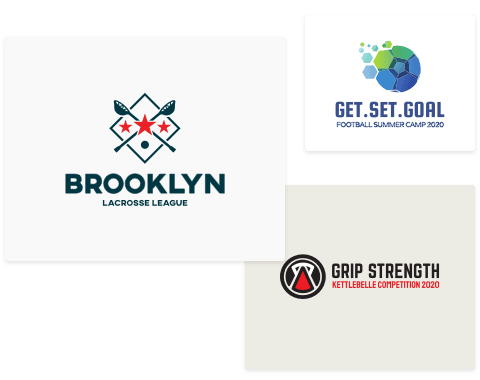 Logo Type
There's merit in straightforward logos. Typography is a potent method for you to speak to your audience.
Colors
Patriotism loves color. Brands commonly gravitate towards shades that their audiences can relate to.
Fonts
Familiarize yourself with fonts that are easy on the eyes. Improve contrast and hierarchy to get engaging results.
Shapes
Laying down the foundation of a high-impact logo is easily achieved by a bold silhouette.
This site is amazing. My first logo and they did a great job with everything from start to finish. I would recommend using BrandCrowd to anyone. BrandCrowd

Super fast and easy to craft such an integral part of your business! BrandCrowd

So easy to navigate the website and an amazing range to choose from. BrandCrowd

Very easy to use and many alternatives to choose from. Thank you very much for your service. BrandCrowd

Very easy to use. Great People BrandCrowd

Brandcrowd is an amazing website with lots and lots of creative ideas BrandCrowd