Attorney & Law Logos
Welcome to BrandCrowd... The World's #1 Attorney & Law Logo Maker. Try it for FREE!
Make a logo you'll love, instantly. Try for free.
Whether you need a beauty logo, a logo for your real estate business or even a logo for your new startup, we help you generate thousands of logo designs in seconds.
How to create a great attorney & law logo?
Give your law business an original logo to help represent your brand's core values. Our logo maker lets you in create the perfect logo for any law firm.
Pick a attorney & law logo
Pick one of the attorney & law logos on this page or update your search
Customize your attorney & law logo
Change colour, fonts, add a tagline... Our attorney & law logo maker is 100% customizable and easy to use
Download your attorney & law logo!
Download your attorney & law logo files and start sharing it with the world!
Your attorney & law logo, made easy.
Finding the right law logo is easy at BrandCrowd. We have logos tailor made for attorneys, private investigators, law professionals and any law-related company. Our professionally designed library of logos lets companies achieve brand justice. Each design adds a layer of credibility to your firm, allowing you to attract a diverse set of clients.
Attorney & Law logo not exactly the right fit? Check these out:
What makes a professional law logo?
Build a stronger case for your brand by familiarizing yourself with these logo design principals. Let our logo maker guide your way.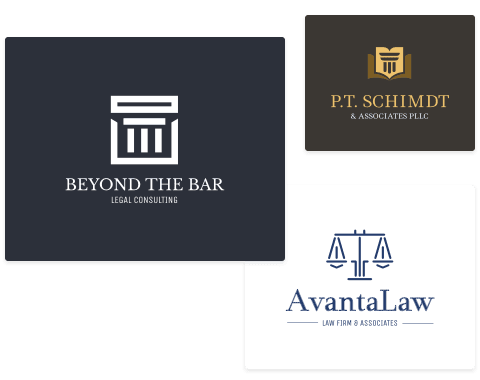 Logo Type
You can make your logo type stand out from the crowd by using space and type strategically.
Colors
Paint a clear-cut brand image with a strong color scheme. You don't always have to use words to introduce yourself.
Fonts
The best font for you is the one that will match your identity and be legible at the same time.
Shapes
Bring shape psychology into play. With shapes, you can choose to display a variety of characteristics.
This site is amazing. My first logo and they did a great job with everything from start to finish. I would recommend using BrandCrowd to anyone. BrandCrowd

Super fast and easy to craft such an integral part of your business! BrandCrowd

So easy to navigate the website and an amazing range to choose from. BrandCrowd

Very easy to use and many alternatives to choose from. Thank you very much for your service. BrandCrowd

Very easy to use. Great People BrandCrowd

Brandcrowd is an amazing website with lots and lots of creative ideas BrandCrowd